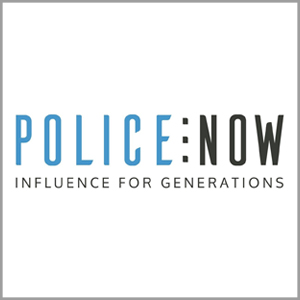 Job Title: Curriculum Officer
Location: Nationwide
Salary: £30,000 – £40,000 (per annum dependent on experience and location)
Reporting to: Curriculum Phase Manager (Secondary)
Contract Type: Permanent
---
How to apply: It's simple, please submit a CV and cover letter explaining why you are interested in working at Police Now. Applications without a cover letter will not be considered.
---
About Police Now
Our mission is to transform communities by recruiting, developing and inspiring leaders in policing. We are working towards a day when every community, whatever the socio-economic background of its residents, can thrive without residents being fearful of crime.
Police Now is an equal opportunities employer committed to driving diversity and inclusion in policing and within our Head Office. We strongly encourage applicants from all backgrounds, experiences and walks of life. At Police Now, our goal is to ensure our workforce reflects the communities that we serve, everyone is treated with dignity and respect as well as empowered to contribute their best. We believe that diversity in our workforce is not just a 'nice to have', it's a business imperative and everyone's responsibility.
Launched in 2014, Police Now trains graduates and career changers with leadership potential to be inspirational police officers and outstanding crime fighters on our National Graduate Leadership Programme as well as our new National Detective Programme. Police Now is a rapidly growing not-for-profit social enterprise with over 100 staff, and as such we are looking for individuals to join the team who have an entrepreneurial, flexible style and will contribute effectively to the development and leadership of this evolving organisation.
Everything we do reflects our values: Believe, Achieve, and Develop. For more information on the work we do and our values, please visit www.policenow.org.uk.
---
What you'll do
This is a unique role in which there will be two main areas to focus on. Around 70% of your time will be spent designing and delivering training content in line with current priorities of The Secondary Phase which include Impact Events, Skill Sessions and online learning. Impact Events are huge events that amongst other things allow us to provide participants with taught content in an engaging way. Skills Sessions are much more focused and tailored to really developing the participant in a smaller setting to get them really engaged in the day.
The remaining 30% of your time will be supporting curriculum team members on the implementation of the Diversity and Inclusion Strategy for the future of this programme. This work will include – but not limited to the redesigning of sessions with an 'inclusivity first' approach, working to improve the experience of participants when arriving in force, and ensuring fairness and equality within all of our assessments across the programmes.
There will also be an expectation within this role to support with academy delivery. The Academies are residential training courses for hundreds of participants (trainee police officers) which we run for both our Neighbourhoods and Detectives graduate programmes. In our academies, participants
receive a mix of theoretical and practical training in order to learn the skills they need to be effective police officers and community leaders.
---
Who we're looking for
We need someone with initiative, optimism, adaptability and a willingness to work in a fast-moving, innovative organisation. You'll work closely alongside members of the curriculum team and enjoy solving problems, delivering high-quality work and supporting the learning of our participants. Ideally, you will have expertise in curriculum design, and you will be able to manage a varying workload and get things done in an environment where priorities and deadlines can change quickly. An eye for detail is essential.
You must possess a genuine commitment to public service and the Police Now mission, values and aims, as well as a belief in personal responsibility. As someone with a real commitment to delivering one of the best police training courses in the world, you'll be willing to go the extra mile during months when our academies are in full swing, taking personal responsibility for your workload and mucking in to help the wider team.
We particularly welcome applications from black and minority ethnic candidates as they are currently under-represented within the Curriculum Team at Police Now.
---
Key responsibilities
• Work with the Curriculum Phase Manager and wider curriculum team to build a comprehensive project plan and then take delegated responsibility for leading and managing individual workstreams.
• Significantly develop and contribute to diversity & inclusion workstreams within Police Now.
• Work with colleagues to capture organisational learning from previous academies and in-year events, developing and building on the year-on-year improvements.
• Plan, design and potentially deliver outstanding curriculum content for both experienced operational officers and participants.
• Engage in a rigorous Quality Assurance process as part of the curriculum team, always aiming for a consistently high-quality session content.
• Produce high quality online learning content.
• Troubleshoot any problems and feedback improvements for immediate or long-term effect.
• Create a positive working environment for you, your colleagues and participants during the Summer Academy or in-year events, facing all challenges with a positive attitude.
---
What you'll need
Essential:
• Strong organisational and project management skills. 
• Willingness to take full responsibility for, and lead on, a number of work streams. 
• A solid understanding of equality, diversity and inclusion. 
• High level of personal resilience. 
• Positive 'can-do' attitude and flexibility, being able to work comfortably within challenging timescales and shifting priorities. 
• Comfortable with remote working and able to manage your own time. 
• Outstanding attention to detail. 
• Solid curriculum design knowledge. 
• Strong interpersonal skills with the ability to build and maintain positive relationships. 
• An interest in, and understanding of, the policing sector and the values and mission of Police Now. 
• Excellent IT skills including knowledge of Microsoft Excel, PowerPoint and Word. 
• Willingness to travel within England and Wales and to work occasional evenings as required. 
Desirable:
• Previous experience designing equality, diversity and inclusion training or delivering projects in this field
• Experience delivering training at level 6 or higher standard
• Degree qualified (preferably Masters or level 7 equivalent)
• Experience of designing and delivering online webinar-style training
• Knowledge of online learning platforms and content management systems
• Experience working with project management software
---
What you'll get from us
• The opportunity to work at a growth-stage business
• A bright, airy, modern and buzzing office near Liverpool Street, Central London (Zone 1). Please note that during the Covid-19 pandemic, online/remote working and inductions will occur.
• Competitive salary of £30,000 – £40,000 per annum dependent on experience and location
• Flexible working
• 27 days holiday each year plus bank holidays
• Sanctus coaching (private mental health coaching for the workplace)
• Access to the Vitality programme which includes healthcare benefits, an Employee Assistance Programme and discounts
• Personal Development budget (after a qualifying period)
• Participation in a pension scheme (with 5% employer contributions and 3% employee contributions
---
Please note
This job description is issued as a guideline. It is not exhaustive, and we would be pleased to discuss any constructive comments you may have. Due to the evolving nature and changing demands of our business this job description may be subject to change. You may, on occasions, be required to undertake additional or other duties within the context of this job description and according to the needs of the organisation.
Applications will be screened as they are received and invited to interview accordingly. Police Now reserves the right to close the advert prior to the advertised date, should a suitable applicant be appointed. Early applications are therefore encouraged.
Please note that some roles within Police Now require certain levels of vetting or screening in order to effectively work with our partners. Therefore, we may ask you to complete this if you are successful.
---
Interview dates
To be confirmed
---
More Information
Salary Offer

£30,000 - £40,000