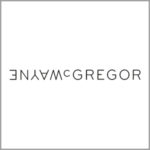 WHO WE ARE
Studio Wayne McGregor is the creative engine for choreographer and director Wayne McGregor, and the home of his
life-long choreographic enquiry into thinking through and with the body. It describes the dynamic team of individuals
and resources that supports his vision, and comprises dance artists, writers, composers, film-makers, visual artists,
scientists, designers, architects, stage technicians, software engineers, administrators and producers who form his
collaborative network.
In 2017 we opened an inspiring new arts space at Here East in Queen Elizabeth Park. Part of a new technological and
creative community re-imagining the cultural landscape of east London, it comprises three extraordinary studio
spaces, hosting all of McGregor's creative work and collaborations alongside artist development and creative learning
programmes based on the trading of space, time and skills.
We are creative, curious and ambitious, with collaboration, inclusion, diversity, sharing and generosity at our centre.
We aspire to be a place where a diverse mix of talented people want to come and do their best work. We strive to
build an inclusive culture that encourages, supports, and celebrates the individual voices of our team and reflects the
communities we work with.
---
WHO WE ARE LOOKING FOR
We are looking for a creative and driven Artistic Coordinator to join our Team and support all aspects of the organisation's creative work. This is a role for someone looking to build a career in the arts, so ambition and potential is what we are looking for. You will be approachable and a team player, who delights in multitasking, planning and logistics and have a keen eye for detail as well as a drive for perfection.
A passion for efficiency, a positive attitude, and a creative approach to problem solving are key to the success of this position, as is the need to be comfortable working with Outlook 365, Teams and MS Excel, and an understanding of A1's and international visas.
---
THE OPPORTUNITY
This is an exciting time to be joining this creative and adventurous organisation as it builds back artistic activity post pandemic. The new role of Artistic Co-ordinator has been created to support all the artistic elements of the Studio as we return to full momentum so you will be working with prestigious ballet companies around the work taking the work of Wayne McGregor, Company Wayne McGregor as new works are created, and the establishment of new and exciting performance opportunities in the UK and internationally. It's a chance to work across a range of activity, with the potential for growth within the team.
---
DETAILS OF THE ROLE
This role has responsibility for supporting all aspects of the organisation's creative work. Working most closely with the Licensing team setting McGregor's work on Ballet companies around the world, the role will also support activity across Company Wayne McGregor and the Engagement Team. You will be working at the heart of the busy, thriving Studio Wayne McGregor.
Day to day your work will focus on the logistics of getting artists on the road to deliver our artistic output, but additionally, you will keep across the full range of artistic activity of the Studio and keep track of what is happening where and with whom, and share this information with critical stakeholders within the Studio.
This is a full-time role with a salary of £25k per annum and will be mainly based at the Studio with the flexibility to also work remotely. Hours of work are 10am to 6pm each day. Holiday entitlement is 28 days (including bank holidays) each holiday year.
---
HOW TO APPLY
Complete the Application Form on our website https://waynemcgregor.com/about/auditions-jobs/ And email your CV including your full name in the subject line to ee26b9e7.waynemcgregor.com@uk.teams.ms
The deadline for receipt of applications and CV's is Friday 29th October at 5pm.
Interviews will take place at the Studio the w/c 1 November 2021.
---
Responsible to: Touring & Licensing Manager
Key relationships: Director & Licensing and Legacy, Director of Engagement
Responsibilities:
Licensing
– Support the delivery activity for all professional and non-professional licensing activity including travel, accommodation, and visa requirements, Schengen visa status, certificates of residence, covid tests and quarantine requirements when necessary
– Produce itineraries for professional and non-professional licensing activity
– Maintain and update Licensing spreadsheets (with logistical info), Licensing & Commissions spreadsheet, Fees spreadsheet, Invoices tracker spreadsheet
– Add all performances to Activity Tracker (in liaison with Cruickshank Cazenove and Ballet Companies) and website
– Gather stats for all Licensing activity including workforce data
– Oversee the Comms for all Licensing activity assisted by the Archivist, including the website and proof reading. Provide ballet companies with full marketing materials including images
– Pass on all Press and PR enquires to Director of Communications
– Manage all licensing budgets, including coding expenses invoices and entering spend
Touring
– Assist the Touring & Licensing Manager in all areas of touring, specifically travel, accommodation, and visa requirements including
Schengen visa status, certificates of residence, covid tests and quarantine requirements when necessary
– Maintain and update CWM touring spreadsheets (with logistical info) and collaborators info
– Update & maintain dancer profiles/tech profiles/other CWM staff data
– Add all performances to Activity Calendar and website
– Gather all stats for Touring activity including workforce data, in line with Arts Council England reporting
– Assist the Touring & Licensing Manager with the Comms for Touring activity, including website, proof reading materials, provide promoters and presenters with full set of marketing materials
Engagement
– Assist the Director of Engagement with occasional Engagement projects, booking travel, accommodation, and visa requirements including Schengen visa status, certificates of residence, covid tests and quarantine requirements when necessary
– Gather all stats for Engagement activity including workforce data
General
– Ensure the Activity Tracker is up to date and oversee and maintain organisation-wide statistics on audiences, engagement participants, FreeSpace artists, research projects, digital distribution, countries visited, building usage and any other data information collection to contribute to the Arts Council England annual survey and other funding applications
– Manage tickets for performances for all SWM events and performances in liaison with Touring & Licensing Manager and
Development Manager
– Keep Insurance travel list up to date
– Provide Touring and Licensing updates to the Archivist for the weekly report
– Assist the Touring and Licensing Manager to provide admin support to Artistic Director
---
YOU WILL HAVE
– A commitment to and interest in the work of Studio Wayne McGregor
– A positive attitude with a friendly approachable disposition
– The ability to act on your own initiative, to self-manage whilst also being collaborative and a team player
– The confidence to work as part of a small team in a fast-paced environment, multi-tasking so as to handle a varied and
demanding workload
– Excellent time management skills, with a keen eye for detail to ensure the ability to maintain accuracy under pressure
– A positive and creative attitude towards imaginative problem solving, with the ability to investigate situations beyond routine questioning and to think of inventive solutions
– Strong attention to detail, with good written communication skills and well presented work
– A confident manner with excellent interpersonal skills and be comfortable working with a wide range of people
Studio Wayne McGregor anticipates that all team members will:
– Act as an ambassador for Studio Wayne McGregor by sharing our ethos, values and passion
– Be open, welcoming and approachable
– Take professional pride in how you and Studio Wayne McGregor looks
– Look for ways to improve, be proactive and actively feedback constructive ideas
– Support your colleagues at all times, and be prepared to take on any other reasonable duty, as required, to ensure the studio always performs at its best
– Look to find a solution to any problem and focus on the best outcome for studio and tea
More Information
Salary Offer

25k

Contact Email

ee26b9e7.waynemcgregor.com@uk.teams.ms